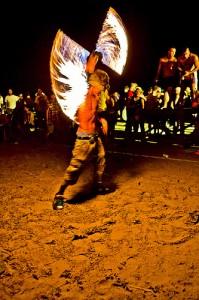 For some people, parties include enjoying artichoke dip while wearing pressed linen slacks, and the possibility of engaging in some playful toe tapping is not too far off. For other people, a party includes body paint, dancing under the moon, and grooving to the world's most renowned DJs. The Full Moon Party is for those who enjoy the latter. For some time now, (mostly British, mostly 20-somethings) tourists have visited the sandy beaches of Koh Phangan, a small island off the coast of Thailand, each month to let loose under the full moon. Though the party may start at sunset, you may want to get your feet wet (both literally and figuratively) while socializing around one of the scattered tables along the shore earlier in the day. Crowds reaching 7,000 to 10,000 participants are regularly seen, but it is not impersonal; there is a good chance you will meet other party-goers with whom you start long lasting relationships. This is a great time to grab a "Yo-Yo Bucket," at only 200THB ($9USD), it includes a pint of vodka and enough energy drinks to keep you going all night.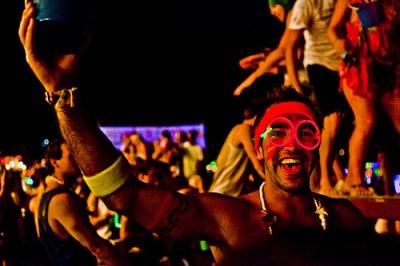 (photos courtesy of joestump and permanentlyscatterbrained)[/caption] Music blares and summons everyone towards the stage, and the mass of painted bodies meld into a sea of glow-sticks and lights. The soulful, rapid movements of Dubstep and Trance play loudly and jugglers and fire-eaters entertain the crowd with daring stunts, sometimes asking for audience participation. Leaping through fiery hoops and flaming jump rope are common spectacles at the Full Moon Party. After awhile, the effects of dancing and leaping through hoops may leave you feeling a bit fatigued at which time a dip in the warm ocean waters may be in order. Many vendors and traders sit at the edge of the beach offering everything from liquor to food and souvenir bobbles, providing anything you may need. There are also designated areas, or "chill-out zones" that are guarded by security officers, providing a safe place to rest your head for a moment or the entire night. For a night at the Full Moon party, leave your
car rental
at the hotel and follow these party tips:
Take your passport copy, leave original at your hotel


Don't bring anything of value


Take down your hotels details in case of an emergency


Wear shoes


Stay away from drugs


And most of all Dance and Have Fun!