Europe's ancient history is one of the primary reasons many tourists find it's numerous countries, and their unique historic architecture so fascinating and exciting. Driving in Europe provides travelers a convenient and highly efficient way to explore the continent's wide breadth of intriguing structures and monuments, most notably, European castles.
Below we've curated a list of 13 Incredible European Castles Worth Driving To on a cross-country Europe road trip. The next time you find yourself vacationing in any of these European countries, be sure to add a stop to these impressive castles to your travel itinerary.
---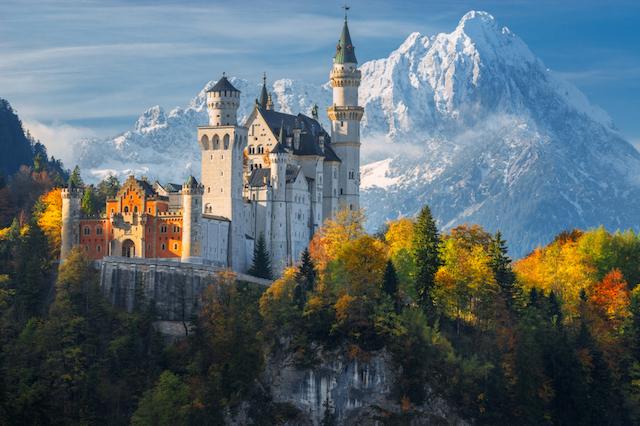 1. Neuschwanstein Castle, Germany
Address: Neuschwansteinstraße 20, 87645 Schwangau, Germany
As the architectural inspiration for Disneyland's Sleeping Beauty Castle, Bavaria's famed Neuschwanstein Castle is easily one of the world's most iconic and recognizable castles. Originally contracted in 1869 as a home away from home for Ludwig II of Bavaria, the castle first opened to the public upon his death in 1886. Perched atop a cliff to the epic backdrop of snow-covered alps, visitors can hike or drive to the top of the hill, and tour the castle inside and out.
---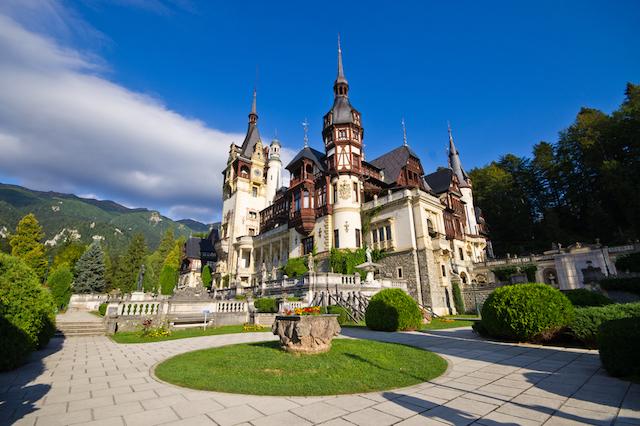 2. Peles Castle, Romania
Address: Aleea Peleșului 2, Sinaia 106100, Romania
Tucked away in the foothills of the Carpathian Mountains in Romania, Peles Castle - sharing design cues with Neuschwanstein Castle - is a mixed architecture, Neo-Renaissance, Neo-Gothic castle originally built by King Carol I in 1873. Inside, visitors to Peles Castle can pore over Baroque-era handcrafted fabrics and hand carved woods while on a guided tour of the castles grand rooms, including a weapons museum, numerous sculptures, and unique period-specific room designs.
---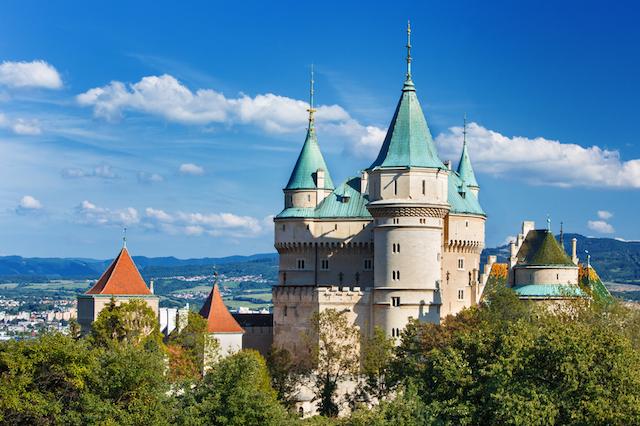 3. Bojnice Castle, Slovakia
Address: Zámok a okolie 1, 972 01 Bojnice, Slovakia
First mentioned in written historical records in 1013, Bojnice Castle was first contructed as a wooden fort, and later re-designed by Count Janos Ferenc Palffy between 1888-1910 imitating famous castles in France's Loire valley. Each year Bojnice Castle hosts numerous events and attractions including a museum, the International Festival of Ghosts and Spirits, and a zoo.
---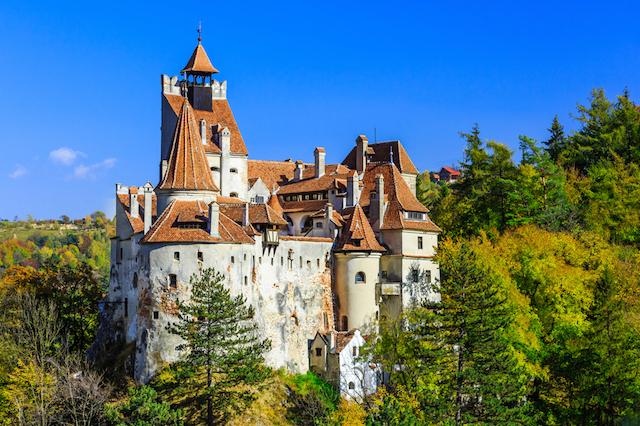 4. Bran Castle, Romania
Address: Strada General Traian Moșoiu 24, Bran 507025, Romania
Considered one of Romania's most famous national monuments, Bran Castle is a fortress nestled in a mountain pass between the countries historical regions of Transylvania and Wallachia. Most famous for it's appearance as the fictional home of Dracula, in Bram Stokers Dracula, Bran Castle now hosts a museum with art, historic furniture, and an outdoor exhibit on Romanian peasant structures
---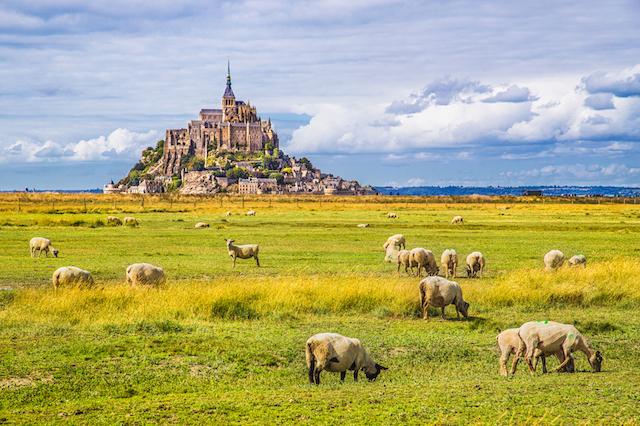 5. Mont Saint-Michel, France
Address: 50170 Mont Saint-Michel, France
Located just off the coast of Normandy, connected by a thin strip of land, Mont Saint-Michel is a fortified island commune dating back to ancient times. Central to the island is the massive monastery from where the island draws its name, where today visitors can walk the cloister and explore chambers on a guided tour. Elsewhere on the tiny rock island are numerous shops, three museums, and myriad independent merchants.
---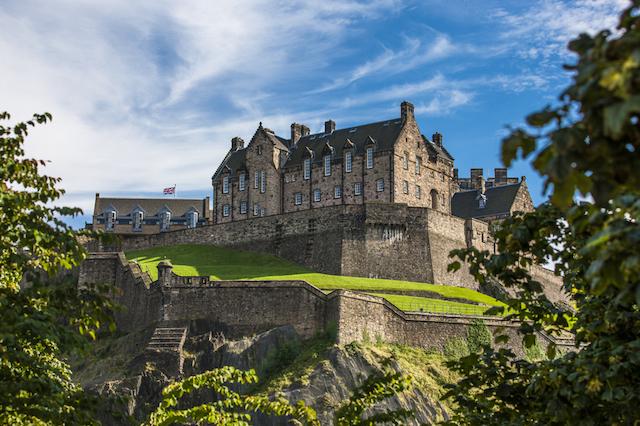 6. Edinburgh Castle, Scotland
Address: Castlehill, Edinburgh EH1 2NG, United Kingdom
Perched high above the Edinburgh skyline, on Castle Rock, sits the Edinburgh Castle - a royal castle since the 12th century, and Scotland's most visited paid-attraction. Scotland's historical society maintains the castle where visitors can find a number of interesting attractions and services, including medieval re-enactments, historic displays, two restaurants, and multiple gift shops.
---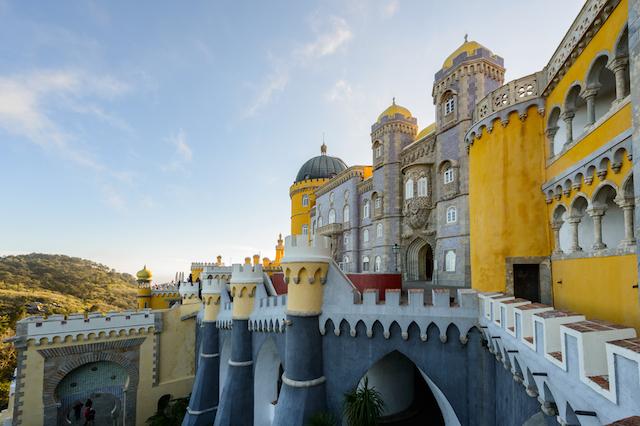 7. Pena Palace, Portugal
Address: Estrada da Pena, 2710-609 Sintra, Portugal
Resting atop the verdant Sintra Mountains, Portugal's Pena Palace is a truly unique castle and UNESCO World Heritage Site. Taking architectural cues from multiple era's and styles, including Neo-Gothic, Neo Renaissance, and Neo-Islamic, Pena Palace was built in the mid-19th century by Portuguese king, Dom Fernando II. Surrounding this incredible palace is a equally incredible park to explore, containing highly exotic flora and scenic vistas accessible by myriad hiking trails.
---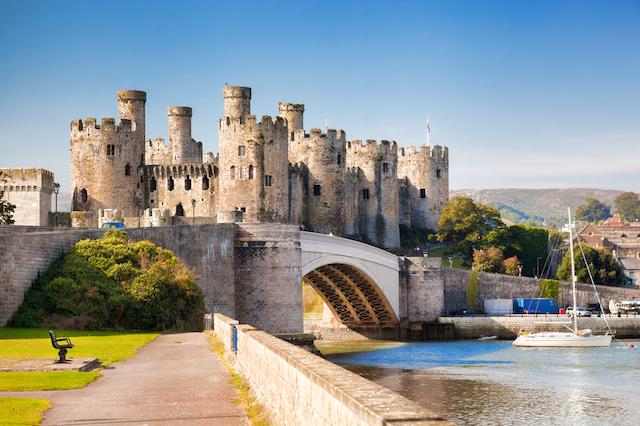 8. Conwy Castle, Wales
Address: Rose Hill St, Conwy LL32 8AY, United Kingdom
Though smaller than other castles in Wales, namely Caernarfon and Beaumaris, Conwy Castle's unique location at the mouth of a ocean inlet, overlooking rolling green hills, makes it a must-see attraction during a trip to southern UK. Tour the castle grounds, and discover why UNESCO described Conwy Castle as one of "the finest examples of 13th and 14th century architecture in Europe."
---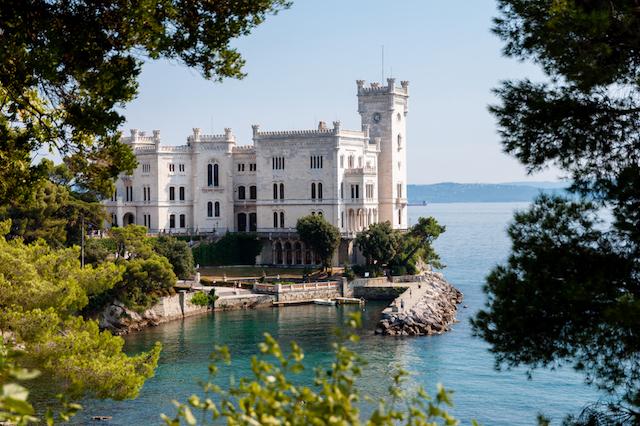 9. Miramare Castle, Italy
Address: Viale Miramare, 34151 Trieste, Italy
Built in a confluence of German, English, and Austrian architectural styles, Miramare castle sits perched just above sea level overlooking the Adriatic Sea. Visitors can tour the castles interior, exploring the royal chambers, throne room, and Duke Amadeo of Aosta's dwelling. Outside the castle is a 22-hectare park with a variety of tropical fauna, that can be explored on foot for a relaxing afternoon by the sea.
---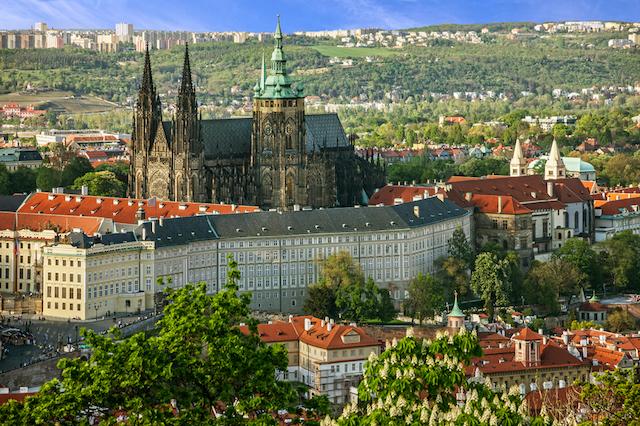 10. Prague Castle, Czech Republic
Address: 119 08 Prague 1, Czech Republic
Prague Castle is the biggest ancient castle in the world, occupying nearly 70,000 square meters of Prague. The castle walls rise above the city offering visitors panoramic views of the surrounding cityscape, and the many cathedrals, palaces, gardens, contained within the walls. Inside a display of the Czech Crown Jewels can be found, and guided tours throughout the castle grounds can be purchased.
---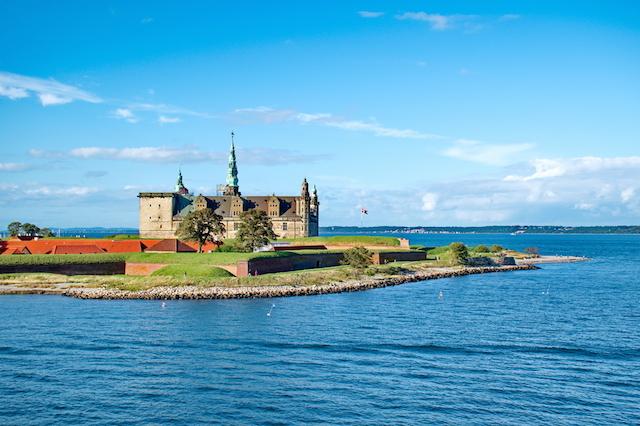 11. Kronborg Castle, Denmark
Address: Kronborg 2C, 3000 Helsingør, Denmark
Known most notably as the setting for Shakespeare's Hamlet, Kronborg Castle still hosts reproductions of the famous play in the castle courtyard and other locations throughout its fortifications. Travelers eager to explore the castles rich history can tour the interior ballroom, chapel, royal chambers, and great hall.
---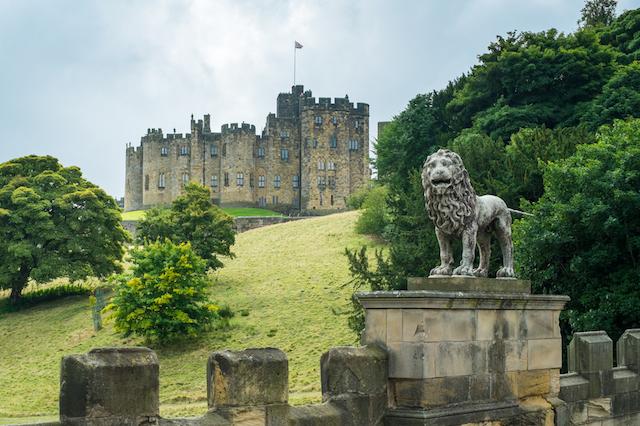 12. Alnwick Castle, England
Address: Alnwick, Northumberland NE66 1NQ, United Kingdom
Currently home to George Algernon Percy, 12th Duke of Northumberland, Alnwick Castle is open throughout the summer to tourists, featuring a stunning array of ancient Egyptian relics, Pompeii frescoes, and other museum-quality exhibits. Most famously, Alnwick Castle was used in the filming of the Harry Potter series, as Hogwarts.
---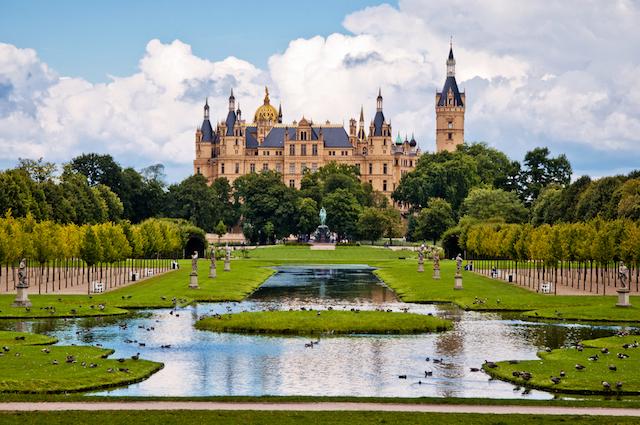 13. Schwerin Castle, Germany
Address: Lennéstraße 1, 19053 Schwerin, Germany
Located on an island in the city of Schwerin's primary lake, the palatial grounds of Schwerin Castle have been nicknamed "Neuschwanstein of the North." Visitors can tour the castle museum, and surrounding park, but beware as legend tells a ghost named "little Peterman" still roams the halls, dressed as a cavalier.
---
Explore Many Amazing European Castles with Auto Europe
With such a incredible amount of multi-period architecture to explore throughout Europe, the destination options for your vacation itinerary are nearly limitless. Rent a car from Auto Europe and
embark on a European road trip
, with stops at one, or all, of these amazing castles. Auto Europe offers the
best rates on car rentals
, and
the best hotel accommodations
! Give us a call or click today and get ready to go on the vacation of a lifetime in Europe.