Car Rental at Plymouth Railway Station - PLY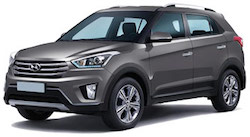 Although public transportation is available, it is only with car rental at Plymouth railway station that you can enjoy your time in the city to the fullest. Public transportation can be very unreliable and time consuming, and losing time is the last thing that you want to do when you want to explore Plymouth. Plymouth Railway Station is located in Plymouth, Devon, England. The railway station is one of six in the nearby area, but is the largest and most used of them all. The railway station opened in 1877. A total of 2.7 million people used the railway station from 2012 – 2013. Station amenities for passengers include an ATM, public Wi-Fi, toilets, baby changing facilities, waiting rooms, pay phones, and post boxes.
Whether you need a traditional rental car, larger van rental or even an exotic sports car rental while vacationing in England, Auto Europe can accommodate you!
Picking Up a Rental Car at Plymouth Railway Station
With a rental car at Plymouth Railway Station, you are free to enjoy all that is offered in the United kingdom and at nearby locations. A rental car is affordable, and the best way to get around. There is a number of attractions in the Plymouth, Devon area that you cannot miss. The Plymouth Sound is a great attraction that allows you to explore the beautiful waters that surround the city. One of the best is the Wonwell Beach. There is so much that you can do at the Sound, and it is a relaxing time for all. If you enjoy history, make your way to Grimspound to view the ancient ruins. St. Andrew's Church and Saltram National Trust are two historic attractions that you will want to explore. The National Marine Aquarium is an exciting attraction for all ages. The aquarium is the largest in Europe, with deep tanks and plenty of sea life and reef on display. Head to Burgh Island to view the city from a different, interesting angle.
Rental Car Suppliers Near Plymouth Airport
Auto EUrope partners with the most trusted rental car suppliers such as Europcar, Hertz and Avis to provide our customers with the most convenient pick-up and drop-off locations near Plymouth Airport. Below you will find the contact information of these suppliers. Please contact our award winning customer support team with any questions or concerns you may have.
Avis Plymouth Airport


20 Commercial Rd

,


Plymouth

,

UK

PL4 0LE




+44 344 544 6090

Avis Hours:
Mon - Fri: 8:00 AM to 6:00 PM
Sat: 8:00 AM to 4:45 PM
Sun: Closed
Europcar Rentals Plymouth Airport


21B Commercial Rd

,


Plymouth

,

UK

PL4 0LE




+44 843 309 3061

Europcar Hours:
Mon - Fri: 8:00 AM to 6:00 PM
Sat: 8:00 AM to 1:00 PM
Sun: Closed
Hertz Rentals Plymouth Airport


2 Forth Banks, Plymouth upon Tyne

,


Plymouth

,

UK

NE1 3PA




+44 843 309 3052

Hertz Hours:
Mon - Fri: 8:30 AM to 5:30 PM
Sat: 9:00 AM to 2:00 PM
Sun: 10:00 AM to 4:00 PM
Hotels Near Plymouth Railway Station
Whether you want a luxury hotel or something that is friendly to the budget, Plymouth has a variety of hotels near the railway station to accommodate your needs. With the help of Auto Europe, you can enjoy any of those hotels at an affordable rate! The Gallery Guesthouse is an impressive hotel for visitors who want a luxury stay, just as The Imperial Hotel. For a more affordable accommodation, The Jury Inn and Rainbow Lodge are both available to tourists.

Plymouth Railway Station Contact Info
Plymouth Railway Station




Plymouth, England

,

United Kingdom

PL4 6AB


Telephone:

020 7250 3222


Latitude:

50.37746


Longitude:

-4.14362


General Information:

Managed by the Great Western Railway, the Plymouth Railway Station is located along the northern edge of the Plymouth city center in Devon county. Serving as a testimony to its history, it's the largest of the six surviving stations in this industrious city. Moreover, it's the second-busiest train hub in the area. Be sure to check out our competitive rates among top suppliers with Auto Europe!