Car Rental Doncaster Railway Station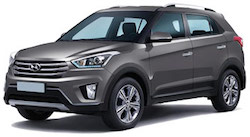 If you do not want to be among strangers on public transportation and be restricted on what you can do during your holiday, utilizing a car rental at Doncaster Railway Station is a must. Car rentals in Doncaster are affordable with Auto Europe and they really make life easy for all visitors. Doncaster Railway Station is located in the small town of Doncaster in South Yorkshire, England. The rail station is within walking distance of the center of Doncaster and approximately 251 km from London's King's Cross Station. The station began serving the transportation needs of customers in 1849 and now the rail station has a first-class lounge that is open 7 days per week, as well as many other amenities including complimentary tea and coffee, an ATM, and Wi-Fi. Use our rental car search engine at the top of the page and start planning your next trip to the UK today!
We only work with the best suppliers at Doncaster Railway Station
Because Auto Europe wants to give you the best service as possible and also the best rates at Doncaster Railway Station. We have been working with Dollar and many other brands to provide the quality of service that we did for over 60 years! In addition if you
need a luxury car
or a
versatile van rental
in the United Kingdom, we can provide that service with the lowest prices on the web. Start comparing our prices now!
Dollar at Doncaster Railway Station


159-161 Balby Rd

,


Doncaster

,

United Kingdom

DN4 0RG




+44 333 332 1222

Hours of Operation:
Mon - Fri 08:00 AM - 06:00 PM
Sat 08:30 AM - 12:30 PM
Sun Closed
Picking up a Rental Car at Doncaster Railway Station
Picking up a car at Doncaster Railway Station is the easiest task in the world when you call Auto Europe. We have a wide selection of vehicles available so that you can enjoy your time in town to the fullest. For people who enjoy shopping, the Yorkshire Outlet is a great place to go to find top of the line stores and fantastic bargains. The Yorkshire Wildlife Park is also a sight to see, filled with many different animals on great land. The Mansion House can tell the history of Doncaster and you'll even be served afternoon tea! The Markham Grange Steam Museum is also a wonderful attraction and making a visit here is a must if you have kids with you. You will find all sorts of steam engines as well as a beautiful garden. Make sure that you include a road trip on the itinerary and use your car rental in Doncaster to get you there.
Accommodations near Doncaster Railway Station
No matter what you're looking for in a hotel, you will find something to please near the Doncaster Railway Station. The Caribbean Hotel is a visitor favorite. This hotel is located close to the Rail Station and offers a host of fantastic amenities. Another nice hotel for guests is the Earl of Doncaster. This hotel is centrally located, offering large guest rooms and many amenities. The Regent Hotel is more affordable than the other two, but still has all that a guest needs for a comfortable visit.

Doncaster Railway Station




Station Ct




Doncaster

,

United Kingdom

DN1 1PE


Telephone:

01302 362175


Latitude:

53.616668701171875


Longitude:

-0.9703584313392639


General Information: Doncaster Railway Station is on the East Coast Main Line in the United Kingdom, serving the town of Doncaster, South Yorkshire. It is 155 miles 77 chains down the line from London King's Cross and is situated between Retford and York on the main line. It is managed by London North Eastern Railway. pick-up a rental car in Doncaster with Auto Europe today!