Spring has arrived and bicycles are coming out of storage in the wintery regions of the world. Cycling is an activity that crosses all realms of society and for hundreds of years has provided more than adequate transportation, recreation, and exercise to people across the globe. Aside from the
Tour de France
, there are not many well known cycling events. Most bicycle owners ride for the sake of recreation and exercise, but are generally not involved with the sub-cultures within the cycling world. However, there are just as many types of cycling as there are bicycles. One of the more multifaceted and accessible is called
randonneuring
.
---
Randonneuring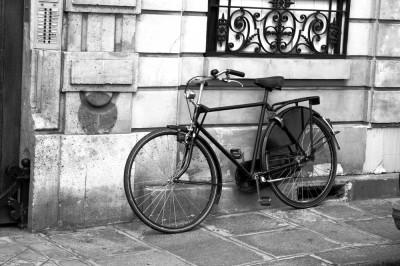 This semi-casual, long-distance cycling sport began in
France
, with some inspiration coming from Italy, in the late 1800s. Riders, who are called
randonneurs
once they have completed a 200km event, partake in rides (
brevets
/
randonnee
) that range in length from 50km (
brevet
populaire
) to 1200km epics such as the Paris-Brest-Paris ride in France, or the
Boston-Montreal-Boston
in the USA/Canada. Most
brevets
are 200-300km in length, which when combined with the many
populaire
rides, makes
randonneuring
accessible to many people on a more entry level.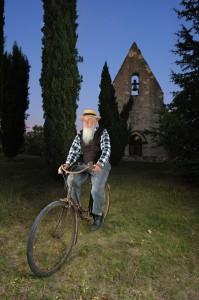 All
brevets
consist of a predetermined route with various stopping points (
controls
) where riders are expected to stop and have a card marked to verify their passing through the point and at what time. Many events, especially the 24-hour ride, called a
fleche
, require near-constant riding for a 24-hour period. The
fleche
mandates not only that riders continue cycling through the night, but also that they pace themselves appropriately throughout the course. The final control of the event must be passed through at the 22nd hour of the ride, and the final 20km must be completed within the last two hours. These technicalities ensure that the
fleche
maintains a relatively casual pace unlike the strictly speed-oriented, more hectic style of the Tour de France and similar cycling events.
Another interesting element of
randonneuring
is that in most cases there are no teams, per se, and there are no vehicles following the
randonneurs
throughout the event. Once a rider begins the race he/she can only be helped by team mates, if applicable. This makes for an attractive challenge of self-sufficiency to some and may be a deterrent to others. Thankfully, this is where the brevet
populaire
events are helpful in the introductory phase.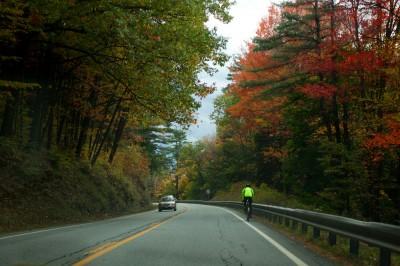 There are certain bicycles that are the most appropriate for this type of riding as well. Although they certainly exist, there are very few mass-produced
randonneuring
bicycles on the market. Most are hand/custom-made by independent craftsmen, specifically in the
USA
,
United Kingdom
, and France. These tend to be of a very high quality and are very expensive, so most individuals with a new interest in
randonneuring
would be better off modifying a bicycle they have already or can obtain for a reasonable price. The main goals are physical comfort and speed. Many
touring
and
cyclocross
models available at your local cycle shop can be slightly modified to fit your needs. In most cases you will need to add fenders (
brevets
take place rain or shine!), racks to carry any needed gear and food, and lighting systems for the longer, overnight rides.
At the heart of it, cycling is about more than competition and rules. It's about freedom, adventure, and more importantly, fun! No matter what kind of bicycle you take out of storage this spring, don't waste another day inside—get out on the road to find out what experiences are in store for you on two wheels.