There are always questions that arise when you visit a new place and rent a car for the first time. The purpose of this blog is to answers some questions you may have, and hopefully some you didn't.
Luggage and Passenger Space

You will have to keep in mind the number of passengers you'll have with you, the amount of luggage they will be carrying and the conditions of the roads you plan to navigate and park on. Many roads in Europe are extremely narrow, so if you have more than 5 passengers, you may want to rent a second car as opposed to renting a single vehicle that can accommodate everyone; this provides more luggage space anyway. If you or anyone in your travel party is especially tall or plentiful, take time to consider that European vehicle models tend to be a bit more compact. Refer to the pictogram on the right when deciding which car you need for the amount of luggage you have. There is also another tool (see above) that will aid you in determining how many people you can comfortably fit into each car class, ranging from 2 to 9 passengers.
Car Rental MPG
For citizens of Canada or the US, purchasing fuel in Europe can seem daunting; especially when the prices are almost twice what they are at home. Luckily enough, the fuel efficiency standards in Europe are much more stringent then they are in North America. As demonstrated by the graph below, even large 7 and 9 passenger vehicles have reasonable fuel efficiency. So when choosing which car class is best for you, keep in mind that most vehicles are comparable in gasoline usage.
Rental Car Insurance
Whenever you rent a car, you have to provide insurance against collision and theft. There are 3 options for providing coverage: 1.) you can contact your credit card company to see if they offer coverage at a discounted rate. 2.) You may purchase insurance directly from a supplier or travel broker. 3.) Or you may have the entire value of the vehicle held on your credit card as collateral.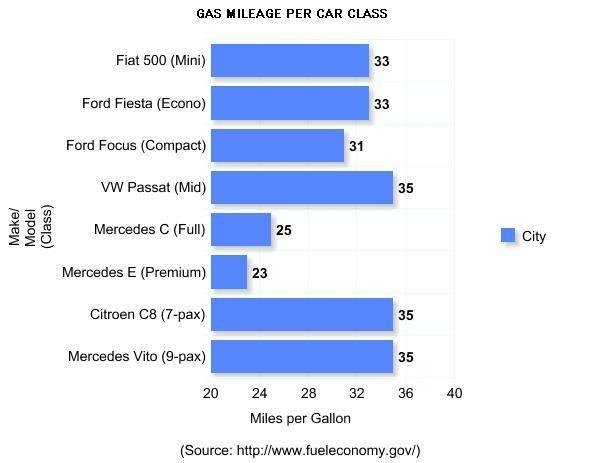 Excluding the third option, in most cases there will be a deducible in lieu of the insurance. A deductible is the amount of money that you must pay before the insurance kicks in. Think of it as co-pay. For example, if your rental car gets stolen, and you've purchased theft insurance with a deducible of €1000EUR, you must pay €1000EUR before the insurance company covers the rest of the cost. The deductible is always held on your credit card until the car is returned without incident. Sometimes credit card companies offer a zero deducible to their clients, although you will have to specifically inquire. At most locations, the car supplier will offer an option to reduce or eliminate the deductible by charging a daily fee. By doing so, you are purchasing additional insurance and little to nothing will be held on your card.
There are circumstances when there is no option to provide your own insurance, such as for car rentals in Italy, where you have to take the insurance provided by the supplier. For car rentals in Ireland, only certain credit cards will cover you (e.g. MasterCard World Card.) Always check with your credit card company, travel agent, broker, and/or supplier to get more specific information about insurance policies in the country (or countries) you plan to visit.
Additional Insurances (included in most rates, with or without collision and theft)
3rd Party Liability (which covers anyone or anything outside of the vehicle)
Fire Insurance
Extra Non-Required Insurances (fees are usually applicable)
Personal Accident Insurance (which covers anyone and sometimes personal effects inside of the vehicle)
Personal Effects (just for your belongings)
Windscreen, Undercarriage, and Roof Coverage
Once you've considered all of these factors and followed up by getting specific information from your travel agent, broker, and supplier, you are ready to book a rental car.