When you stroll through your local liquor store, you're bound to see sections of the wine department dedicated to the wine-producing
regions in France
, Italy, Spain, Australia, California, and the list goes on. No doubt countless travelers visit these premier vacation destinations not just for their scenery and culture, but for their wine, and to witness each vineyard's unique production process. These major production nations also dominate the value-added wine trade, where well-appreciated bottles and brands can top $100 for a generic product, compared to lesser-appreciated brands from lesser-known producer nations.
No doubt the countries above produce excellent wines worth experiencing, but it'll cost you. Auto Europe has found the three most overlooked wine producers in the Mediterranean to make you look like a true wine expert when you return home and share your stories of your
wine-centric road trip
with friends, who may have had a similar experience, but dished out the big bucks to do so at a premier destination instead of finding the best value and the tastiest wines.
Adriatic Coast of Montenegro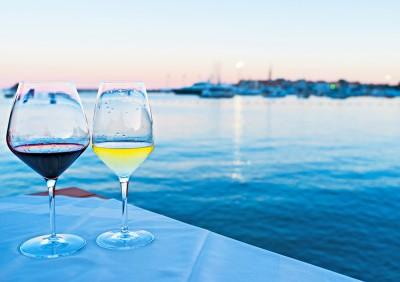 Montenegro is a small country hugging the Adriatic Sea that was once a part of the Socialist Republic of Yugoslavia. Montenegrin wines are produced from a wide variety of grapes, including Vranac, Krstač, and Carbernet Sauvignon, all of which grow beautifully along the picturesque southern and coastal regions of the country. Both Vranac and Krstač grape varieties are indigenous to both Serbia and Montenegro, Vranac is considered locally to be the most important variety of grape to Montenegrin producers, as it produces a highly unique taste and character that is synonymous with the this small country. Krstač was believed to have been bred by ancient Romans in the area and has changed little since.
A wine becomes dry by being fermented to dryness, which means it has little or no sugar remaining, and in this writer's opinion, the best wines in Montenegro are all very dry yet hearty, whether they are red, white, sparkling, or still. A rich Cabernet Sauvignon produced in Montenegro will pair excellently with grilled meat or seafood, which you are likely to be eating lots of in Montenegro.
Although
travelers in Montenegro
can certainly go on structured wine tours, such as a tour of the Plantaže compound, the largest commercial producer in the country, what makes Montenegro a fascinating and overlooked wine destination is that most families in Montenegro produce wine for home consumption, especially in the southern part of the country where the conditions are best. Additionally, both home producers and commercial institutions have always been oriented towards the Montenegrin market, where there are no sacrifices in regards to quality or character.
Your best chance to enjoy a genuine Montenegrin wino experience would be to be invited to a family farm for dinner where you'll enjoy the best of Montenegrin cuisine, fresh greens, vegetables, and meats, paired with excellent, homemade dry wines.
Cap Bon, Tunisia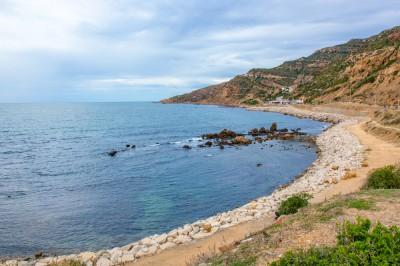 Being an almost entirely Muslim country, it may come as a surprise that fantastic wine is both plentiful and affordable in Tunisia. Wine has been produced continuously in the area that comprises modern Tunisia for over three-thousand years, and the former French colonies of Algeria and Tunisia were actually the world's largest producers of wine until the 1960's, although after independence, wine production in Algeria ceased almost completely and Tunisian vineyards suffering from a severe lack of expertise. Since the late 1990's, Tunisia has seen considerable foreign interest in expanding the nation's wine infrastructure, and production has been increasing steadily since 2000.
Common grape varieties that are grown in Tunisia are mostly the same grown in Southern France, owing to French influence. Over 70 percent of wine produced in Tunisia is Rosé, and thus the most common grape varieties are Carignan, Cinsaut, Grenache, Syrah, and Merlot. Nearly all of Tunisia's wine is produced in
Cap Bon
, a peninsula in Northeastern Tunisia that is surrounded by the Gulf of Tunis to the north and the Mediterranean Sea to the south. The climate of
Cap Bon
is very similar to southern France or the Aegean Islands, very dry and shrubby but perfect for grape and olive cultivation.
Perhaps the best thing about wine in Tunisia is that it's very cheap, but that doesn't mean bad. At a grocery store, one could purchase a very delicious bottle of wine for anywhere between 8 and 15 dinars (about $4 to $8 USD) or at a restaurant for about double the price. Wine in Tunisia is very cheap because much of the wine production was spearheaded by individual citizens, not wealthy international conglomerates. Tunisian wine is produced to international standards and competes well with many wines from better known terrains, while being a fraction of the cost. For true oenophiles who have visited Tunisia, they are universally astounded by the breadth of quality and tastes one can try for a very low cost.
If you'll be in Tunisia anytime soon, we highly recommend venturing to
Cap Bon
with your
Tunisian rental car
and purchasing a bottle of Ifrikia Rouge Reserve, produced by Domaine Atlas. A bottle of Ifrikia Rouge costs about 12 dinars at a supermarket and the grapes are all grown within the
Cap Bon
Peninsula. The hint of berries combined with a smooth taste and finish are its best qualities, and the taste is very much like that of a full Cabernet, and pairs very well with pastas and meats with red sauces, which you will undoubtedly be drowning in while exploring
Cap Bon
. Although wine culture as all but disappeared from much of North Africa, the seaside, and cosmopolitan resort cities of Tunisia continue to attract tourists from across Europe and beyond seeking the world's most overlooked wines and shockingly
affordable hotel accommodations
.
Heraklion and Chania, Crete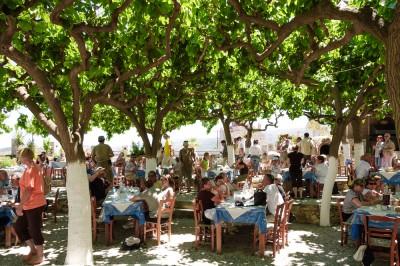 The history of Cretan wine is a long and storied one, the Minoans were definitely making wine as recently 1600 BC, but it was certainly being produced earlier. During the days of the Roman Empire, Cretan wines were specially prized by Roman nobility, with a sweet wine, known as
protropos
, being exported to Italy for centuries. By the 16
th
century,
vino di Candia
(wine from Heraklion) was highly prized as sold across Western and even Northern Europe. In modern times, there has been a paradigm shift in Cretan wine production. In the 1970's, Phylloxera reached the island and decimated the ancient vineyards found across the Island, and the government attempted to rectify the issue by replanting grapes en masse, but legally, only indigenous grapes could be replanted, especially Vilana, one of Crete's native white grapes, but also arguably its most boring. In 1998, the law was revoked, so any grape could be cultivated in Crete.
Since 1998, the Vidiano wine has emerged as Crete's most popular drink. Vidiano is flavored by apples, yellow fruits, and rich yet balanced aromas, "a valvet body, a round twist of oily texture, with a refreshing acidity," says Nicolas Miliarakis of the Minos-Miliarakis Winery, located in Heraklion. You'll also find many other native grape varieties on Crete, such as Sauvignon Blanc, Chardonnay, and Dafni. Two cities dominate the Cretan wine industry, Heraklion and Chania, and each has its own unique wineries and other establishments where local products are produced and either drank locally or exported elsewhere.
In Heraklion, it's crucial to sample the Kotsifali grape, a popular indigenous red grape variety which is also mixed with a partner, typically a Syrah, to provide it with a deep red color that matches well with both tomato and onions sauces, goat, lamb, and chicken, all indigents which perfectly characterize Cretan cuisine. While exploring Chania, travelers should visit the Karavitakis Winery, which represents the emerging Cretan wine industry perfectly, Karavitakis seeks compelling wines produced using international varieties which are also indigenous to Crete. Karavitakis is arguably the most diverse wine producer in Crete, which means you'll find something for everyone, whether your travel partners prefer dry wines, hearty wines, or fruity wines.
What separates Crete from the other destinations on this list is that Crete actually has a burgeoning wine industry that is incredibly tourist friendly, it's just unknown to most tourists interested in wine-oriented adventures. Unlike Montenegro, a diverse range of wines are produced in Crete, many of which cannot be found outside the Aegean region. And unlike Tunisia, nearly every aspect of life in Crete revolves around food and specifically drink, so nobody will be surprised to hear you came to Crete to drink wine and eat delicious food, in fact, they'd be surprised if you came for many other reasons!