Romantic Road Trip Planner & Guide: Frankfurt to Hohenschwangau

Not only a captivating drive that attracts both driving enthusiasts and leisurely travelers alike, this remarkable road trip is also one of the oldest touring roads in the world. Built after World War II, the Romantic Road was designed to encourage tourism and draw travelers on a journey through many of Germany's historic castles and stunning countryside.

Nothing can compare to exploring these beautiful scenes and Bavarian villages while touring in your own rental car on your own schedule; stopping at those places that peak your interest the most.
This easy road trip--a total of 4 driving hours--is best started in Frankfurt, where you can pick up your rental car. Then, simply hop on over to Würzburg and take a leisurely week or so to make your way down to Hohenschwangau.
---
Romantic Road Trip Day 1: Frankfurt
Frankfurt Events & Attractions:
Although the Romantic Road is calling, why not explore the historic city of Frankfurt before you head South? This business hub plays host to a multitude of attractions that are sure to capture your attention--let alone the fact that the hot dog was invented here. Be sure to try authentic German Frankfurter "Würstchen" while in town.
Museum of Natural History: Houses the only complete Diplodocus skeleton in all of Europe
Goethe's House: Learn about the writer's works and impact on German culture
Palmengarten: One of two botanical gardens in Frankfurt, and the second largest in Germany
Main Tower: 56-story skyscraper in downtown Frankfurt with sweeping views of the city and River Main below
Christopher Street Day Parade: Takes place mid-June, annual Gay and Lesbian parade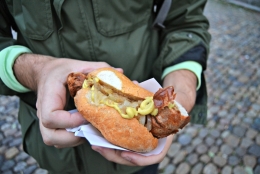 Frankfurt Restaurants, Bars, and Nightlife:

Much like the city itself, Frankfurt's culinary scene is diverse and comprehensive. From traditional German fare to experimental haute-cuisine, there is something for everybody when it comes to food in Frankfurt. Local outdoor food markets are also popular in Frankfurt, where travelers and citizens alike can pick up fresh meat and produce for a 5-star, affordable home-cooked meal.
Restaurant Medici: Mediterranean fusion cuisine, couples traditional German recipes with a Mediterranean flare, features large outdoor terrace
Ariston: Greek cuisine combining both modern and antique Greek fare, includes spacious and private dining area, and extensive wine list
Ebbelwoi Unser: Traditional German fare inlcuding a variety of pork, veal, beef, and frankfurter specialties, also includes Hungarian and Austrian inspired cuisines

Frankfurt Hotels & Lodging:
The city's largest hotels can chiefly be found near the train station, in the business district, and near the fairgrounds. *Note to travelers: the area closest to the train station is considered by many to be a "red light district," though regularly patrolled by law enforcement. For hotels that afford a more traditional German feel, check out hotels located closer to the suburbs of Frankfurt.
Falkenstein Grand Kempinski: 5-Star Hotel, located in renovated chateau, features include on-site bistro serving local fare, bar/lounge, and outstanding palatial grounds
Jumeirah Frankfurt: 5-Star Hotel, centrally located, facilities include bar, cafe, restaurant, shopping facilities, gym, sauna, and complimentary breakfast service
Grand Plaza Hotel Frankfurt: 4-Star Hotel, located in heart of the city on the banks of the River Main, walking distance to major attractions and shopping
Frankfurt Airport to Downtown Driving Route: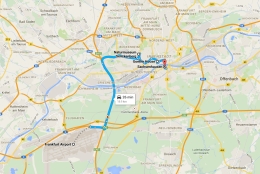 Upon arriving in Germany, pick up your rental car at the Frankfurt am Main Airport, and head into downtown where a variety of exciting attractions, restaurants, and lodging accommodations await you. Click on the Map to view driving directions.
---
Romantic Road Trip Day 2: Würzburg
Würzburg Events & Attractions:
Known as "The Pearl of the Romantic Road," about an hour and a half south-east from Frankfurt, Würzburg offers vacationers vineyard-covered hills topped by castles and fortifications once housing the region's prince-bishops. Much of this German countryside has been rebuilt since the bombings of WWII.
Augustinerkirche: Baroque church first built in 1266, originally in Gothic style, then recomissioned in Baroque style in 1741
Alte Mainbrücke: Germany's first stone bridge
Schloss: The city's skillfully maintained botanical garden
Franconian Museum: Housed in the Marienberg Citadel, the museum features work from Franconian artists and craftsmen, including world-class sculptor Tilman Riemenschneider
Mozart Festival: Takes place mid-June (2016 dates TBD), includes more than 60 concerts celebrating the work of Mozart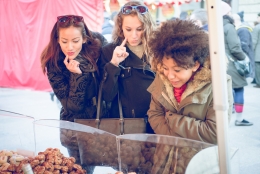 Würzburg Restaurants, Bars, and Nightlife:

Typical of most restaurants here, there are two things to remember when visiting Würzburg's dining scene: 1) they will be busy during the tourist season and 2) it's typical for German restaurants to close between 2pm to 5pm. Don't worry if you get hungry between those hours--just look for a place offering cold cuts, cakes, and other similar "cold" meals.
Vinothek Tiepolo: Small German restaurant with seasonal menu, and expert sommelier staff to recommend wine pairings
Ararat: Turkish and Mediterranean fare specializing in lamb, Turkish wine offerings, and kebab
Restaurant & Weinhaus Stachel: Traditional German fare with a focus on fresh, organic produce and locally-sourced meat options

Würzburg Hotels & Lodging:
Maritim Wurzburg: 4-Star Hotel, located on the banks of the River Main with views overlooking the Marienberg Fortress
Novotel Wurzburg: 4-Star Hotel, located in the heart of the city, features two fine-dining restaurants, palatial terrace, and on-site bar
Residence: 3-Star Hotel, nestled in the center of Old Town Wurzburg, short distance from banks of River Main and major tourist attractions
Frankfurt to Würzburg Driving Route: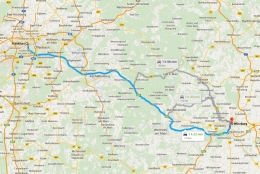 The road trip from Frankfurt to Wurzburg takes you through breathtaking countryside towards the beginning of the Romantic Road, with myriad available stops at stunning attractions like the Schloss Veitschochheim, and other palatial works of architecture. Click on the Map to view driving directions.


---
Romantic Road Trip Day 3: Rothenberg ob der Tauber
Rothenberg ob der Tauber Events & Attractions:
Well known for its restored and preserved medieval Old Town, Rothenberg ob der Tauber is a popular destination for travelers, and a staple of the Romantic Road trip through Germany. A variety of intriguing attractions can be found in Rothenberg, with pristine examples of Gothic, Baroque, and Renaissance architecture spread throughout the town.
The Herterich Fountain: Elaborate Renaissance fountain, located in the city center marketplace
Schloss Schillingfürst: Baroque castle, outside of town, vista point for soaring eagles and falcons in their natural habitat
Meistertrunk Festival: Takes place late May, townspeople decked in period costumes
Rothenburg Town Hall: Located in the Markplatz the town hall was originally built in the 13th century with later additions in the 16th century
St. Jacob's Church: Completed in 1485, considered one of the most pristine churches in Germany, includes a one-of-a-kind wood carved alter dating from 1505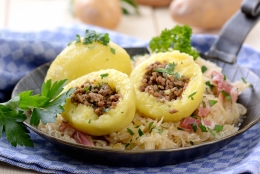 Rothenberg ob der Tauber Restaurants, Bars, and Nightlife:

Rothenberg ob der Tauber's quaint village feel forshadows its clasically Bavarian culinary scene. A number of other ethnic restaurants can be found in town, but in this quintessentially Bavarian town the traditional cuisine outshines the rest. Expect rich and hearty potato dumplings, hand-made sausages, and a variety of pretzel styles.
Zur Höll: Set in one of the oldest houses in Rothenberg ob der Tauber, this classic German restaurant has one of the largest selections of Franken wines in all of Germany, and an ever-changing seasonal menu
Gasthof Butz: Located in town center in a historic guest house dating from 1894, this hotel/restaurant features Franconian gastonomy, with an emphasis on beer and wine
Brot & Zeit: Another distinctivly Bavarian restaurant, Brot & Zeit also has an excellent pastry selection

Rothenberg ob der Tauber Hotels & Lodging:
Gasthof Butz: Guest house hotel, includes fine dining restaurant and bar in Rothenberg's medieval Old Town atmosphere
Historik Hotel Gotisches Haus Garni: 4-Star Hotel, family-owned and operated hotel in a recently modernized and restored 13th century house in the historic district of Rothenberg ob der Tauber
Hotel Eisenhut GmbH & Co. KG: 4-Star Hotel, centrally located, includes on-site restaurant, piano bar, garden terrace, and conference amenities
Würzburg to Rothenberg ob der Tauber Driving Route: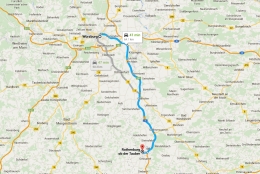 The Romantic Road trip route from Wurzburg to Rothenberg obder Tauber takes you through a variety of charming villages along the way, including Rottingen and Weikersheim--both excellent destinations for a lunchtime snack at either of their open air market squares. Click on the Map to view driving directions.


---
Romantic Road Trip Day 4: Nordlingen
Nordlingen Events & Attractions:
Built atop an ancient Roman castellum dating from 85AD, the historic city of Nordlingen is brimming with exploratory opportunity and intriguing attractions. As one of the only towns in Germany that still has a completely established city wall--another being the previous day's Rothenberg ob der Tauber--Nordlingen has a wide variety of well-maintained architecture dating back over 1100 years, including remnants of an ancient meteor impact.
Ries Crater: Circular ground depression over 500 ft. deep and 15 miles in diameter caused by a meteor impact over 14 million years ago
Ries Crater Museum: Housed in a 16th century barn that was once part of the city center, focused on meteor collisions with Earth, including samples of genuine moon rock from Apollo 16
Church of St. George: Includes 90m steeple called "Daniel," made with shocked quartz from the meteor impact
Town Wall Musuem: Located in historic Löpsinger Tower, covers history of town's immaculately maintained fortifications
Christmas Market: Takes place from mid-November through December, a romantic and festive outdoor Christmas Market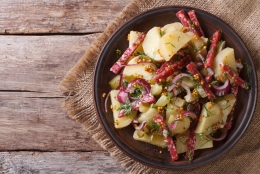 Nordlingen Restaurants, Bars, and Nightlife:
Due to it's semi-rural locale, the restaurant scene directly surrounding Nordlingen is fairly sparce when it comes to culinary exploration, so expect a nice change of pace with the variety of incredible eateries in Nordlingen.
Riesling Nordlingen: Upscale take on classic German cuisine, romantic ambiance, English translation menus
Wengers-Brettl: Popular local favorite serving regional Bavarian cuisinee
Athena Taverne: Greek and Mediterranean specialties served in a fine-dining atmosphere

Nordlingen Hotels & Lodging:
Nh Kloesterle Nordlingen: 4-Star Hotel, located in heart of medieval city center, attached to a 12th century monastery. Facilities include an on-site bar and restaurant, valet parking, and an inviting foyer/lounge
Nh Aquarena Heidenheim: 4-Star Hotel, located just outside Nordlingen in a majestic 4-story building overlooking the countryside
Md-Hotel Meerfraulein: 3-Star Hotel, also just outside Nordlingen, facilities include a cinema, bowling alley, sauna, solarium, sun terrace, and restaurant
Rothenberg ob der Tauber to Nordlingen Driving Route: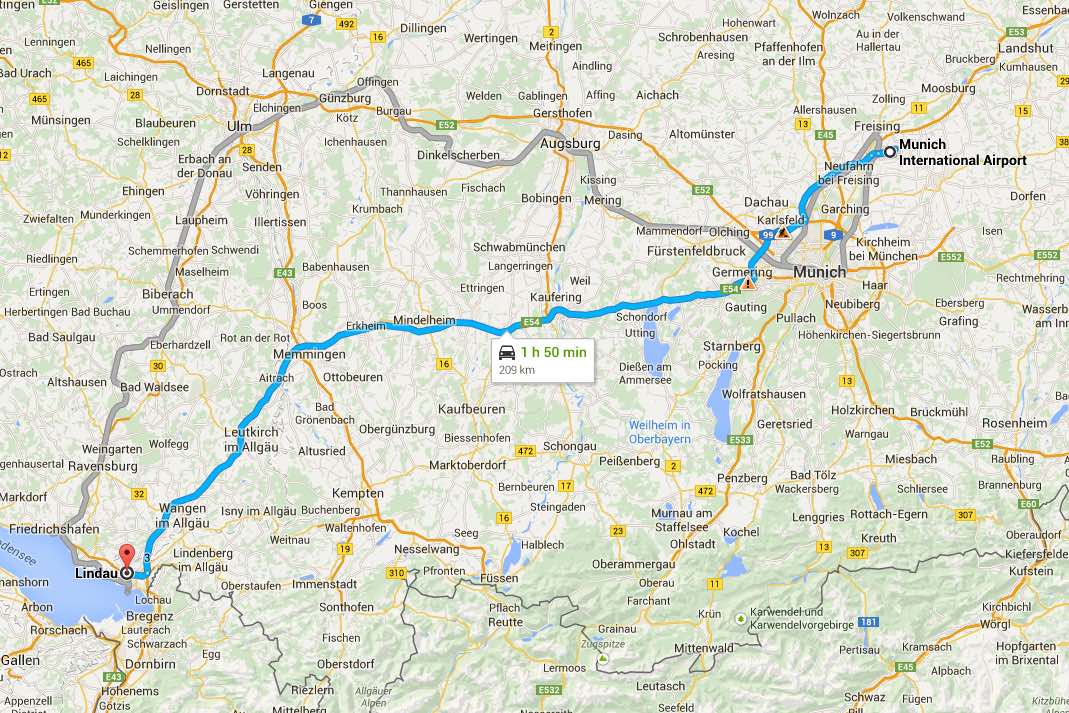 Continuing on for an hour's drive south, you'll enter the fascinating village of Nördlingen--established back in 898 AD. Here are some interesting facts to take with you about this stop: It is one of only three villages in Germany that still boasts a fully-intact city wall; it's basin was created by a meteor that struck several centuries ago; Willy Wonka & the Chocolate Factory's final scene was filmed here (think background as the glass elevator rises). Click on the Map to view driving directions.

---
Romantic Road Trip Day 5: Augsburg
Augsburg Events & Attractions:
Day 5 of the romantic road trip takes you to the Bavarian cultural capital of Augsburg, the third oldest city in Germany, with a rich history as a strategic trade and military location from 15 BC onwards. Myriad exciting attractions and romantic restaurants await you in Augsburg, where the old world and new world combine for the ultimate vacation destination.
Dom St. Maria: Gothic, 9th century chapel, hosts five culturally significant and rare paintings by Hans Holbein the Elder
The Fuggerei: World's oldest social housing project (1516)
Wieskirche Church: Located just outside of town, built in late Baroque style in an alpine meadow at the base of the Trauchgauer Mountains
Münster in Old Ulm: Located just outside of town, largest evangelical church in Germany
Mozart Festival: September each year, celebrating Mozarts catalog of work with a variety of public concerts

Augsburg Restaurants, Bars, and Nightlife: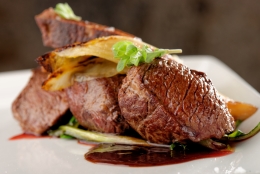 As one of the largest population centers on the Romantic Road, Augsburg's dining and nightlife scenes are the most vibrant in comparison to the smaller village-style towns that make up the majority of the road.
Ratskeller Augsburg: Located underneath the Rathaus, traditional German cuisine, open until 2:00am on Fridays and Saturdays
Die Ecke: Located behind the city's Town Hall, fine European fare, popular venison dishes (seasonal)

Augsburg Hotels & Lodging:
Intercity Augsburg: 3-Star Hotel, located in center of Augsburg, a short distance from major attractions and shopping. Facilities include a gym, sauna, breakfast & lunch buffet, and on-site a la carte restaurant
Best Western Hotel Dasing Augsburg: 3-Star Hotel, located just outside of town, Munich can be reached in 40 minutes by car, Oktoberfest in 30 minutes. Facilities include fitness center, sauna, and steam-bath
Nordlingen to Augsburg Driving Route: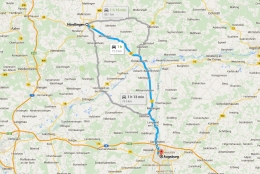 Continuing South along the Romantic Road you will come to the third-largest city in Bavaria--Augsburg--in just under an hour's drive. Come rested and ready to explore this attraction-packed city. Click on the Map to view driving directions.
---
Romantic Road Trip Day 6: Hohenschwangau
Hohenschwangau Events & Attractions:
No doubt about it--Germany's Romantic Road is an extraordinary experience for any vacationer looking for romance, history, and a really good drive. For a complete and memorable view, drive your Auto Europe rental car across the extraordinary Marienbrücke--the bridge that spans the gorge between city's two epic castles.
Neuschwanstein Castle: Fairy-tale design, inspirational source to multiple artists and story-tellers (think Snow White's castle)
Hohenschwangau Castle: Impressive example of Bavarian architecture and romance, located across the valley from Neuschwanstein Castle
Neuschwanstein's Minstrel's Hall: Offers September concerts
Fürstensaal: Classical-music festival, held in mid-June
Museum of the Bavarian Kings: Museum dedicated to history of Bavaria's royalty from the middle ages to present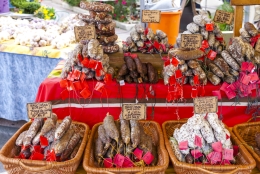 Hohenschwangau Restaurants, Bars, and Nightlife:
Alpenrose am See: Up-scale Bavarian fare, romantic restaurant locale with terrace-views overlooking the lake and Alps behind
Zur-Neven-Burg: Warm and cozy traditional German restaurant, located at the top of the hiking trail to the castles
Alpenstuben: Traditional Bavarian food, located at base of Neuschwanstein Castle trail, perfect for a meal before the hike up to the castles

Hohenschwangau Hotels & Lodging:
Euro Park Hotel International: 4-Star Hotel, located just outside Hohenschwangau in Fussen, this hotel features a fitness center, sauna, ping-pong, massage services, and library reading room
Bigbox Hotel Kempten: 4-Star Hotel, a bit farther down the road from Fussen and Hohenschwangau in Kempton. Hotel is just a short drive from the regional airport, golf course, and many other attractions in the area
Md-Hotel Alpenrose: 3-Star Hotel, also located in Fussen, a short 5 minute drive from both royal castles of Neuschwanstein and Hohenschwangau
Augsburg to Hohenschwangau and Beyond, Driving Route: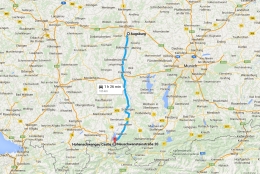 On this last day of your driving tour, keep your German rental car headed South and in less than an hour and a half you'll begin making your final Romantic Road memories in the awe-inspiring village of Hohenschwangau.
If vacation beckons you on further, check out some of our other German Road Trip itineraries. If your plans take you home at the end of this road trip, head back North-East to Munich International Airport--the closest airport and a convenient drop off location for your rental car. Click on the Map to view driving directions.
---
More Fantastic European Road Trip Planning Guides
Italy Road Trips
Spain Road Trips
UK Road Trips
Portugal Road Trips
France Road Trips
Netherlands Road Trips
Ireland Road Trips
Switzerland Road Trips