Get Behind the Wheel of a Porsche Panamera 4S!
If you're in the process of planning an upcoming vacation to Europe or are finalizing plans for a business trip, choose to navigate the roadways of your host city in style with a Porsche Panamera 4S. This high-performance luxury sedan is a seamless combination of performance, comfort and style. With a chic coupe like silhouette, trendy hatchback body, agile handling and excellent steering, this vehicle is truly second to none.

What Makes the Porsche Panamera Unique?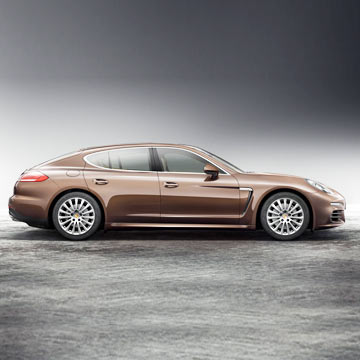 From the driver's seat of a Porsche Panamera 4s, travelers are able to experience all of the unmistakable qualities of a well respected sports car, with absolutely no compromise in terms of daily driving. This vehicle is loaded with an array of innovative technologies that are able to deliver optimum performance, while maintaining the luxury, comfort and efficiency of a sedan. Unique sizing grants an uncharacteristically spacious interior that can accommodate four, along with an ample amount of luggage space in the trunk. Stability management, anti-lock brakes, comprehensive anti theft system and advanced airbag protection are all safety features that give you contribute to your peace of mind while traveling internationally.

Engineers at Porsche have equipped newer model Panameras with stop and start capabilities that are able to shut down the engine while the vehicle is completely stopped and restarts when the driver takes their foot of the brake. Modifications to the suspension deliver a greater level of comfort without any detriment to the way the vehicle absorbs irregularities in the road while traveling at higher speeds. In motion, this vehicle is simply stunning. An alluring mixture of sheer power, flawless gear shifts, active suspension management and dynamic chassis control blend together to create a sports sedan that is fully able to take on Europe's winding roadways with speed, elegance and poise.
Auto Europe Can Help You Rent a Porsche Panamera 4S!
Auto Europe has been helping clients rent high end and luxury vehicles in destinations around the world for nearly 60 years. We are proud to offer cars that are internationally renowned for their superior performance and engineering excellence. Whether you are traveling for business or for pleasure, Auto Europe can help you arrange the vehicle of your dreams on your next trip! Simply contact our Prestige Department toll-free 24/7 at 1-888-223-5555, or make your reservation online.