Rent a Porsche Cayenne Turbo with Auto Europe
Are you in the process of putting the finishing touches on an itinerary for your next vacation, or ironing out the details for an upcoming business trip? Whether you are traveling for a corporate rendezvous, or for some much needed rest and relaxation, Auto Europe can help you get behind the wheel of your dream car. The Porsche Cayenne Turbo has a spacious passenger with an adjustable rear bench, providing passengers with plenty of room and making even the longest trips seem enjoyable. The vehicle is also equipped with a versatile luggage compartment that can hold up to six suitcases.
What Makes Renting a Porsche Cayenne Turbo Different?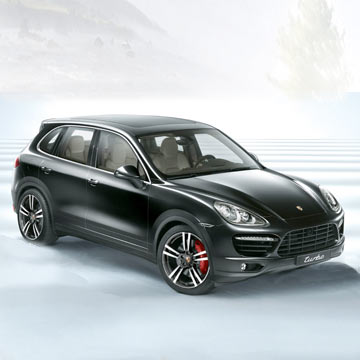 Porsche engineers have been regarded as being some of the most innovative in the industry, as they are continually coming up with new ways to create a successful balance between efficiency and performance. These goals are achieved by the use of advanced engine technologies and weight reduction designs. By using weight saving materials and a new series of concept modifications, engineers have designed the newer model Cayenne to be almost 400 pounds lighter than older models. Benefits of these design changes benefit drivers greatly, as they will experience excellent agility and driving dynamics, with lower emissions and fuel consumption. Increased efficiency is also linked to the accessibility of key resources while driving. This is why Cayenne's offer a myriad of clever storage options including: door storage compartments with beverage holders, storage pockets located on the front seat backrests, glove compartments that are cooled by the air-conditioning unit (great for keeping snacks and beverages chilled), a compartment in the center console and two convenient storage drawers tucked underneath both the driver's and front passenger's seats.

Navigating in an unfamiliar city is made virtually effortless while touring your host city in a Cayenne Turbo. All models are equipped with eight-speed Tiptronic S and Auto Start Stop functions. For instance, if you are sitting at a stoplight and your foot is on the brake pedal, the Auto Start Stop feature will automatically turn off the engine and restart as soon as your foot comes off the pedal. Even though the engine is not running, all audio communication systems will stay on and the climate control will continue to maintain the appropriate chosen temperature. Twin turbo charger units accompany the engines, with one being designated for each bank of cylinders. Incoming air passes through a filter and is compressed by these turbine units and the temperature is then reduced in the twin intercooler system. The Porsche Traction Management system and active all wheel drive provide optimum traction and safety, leaving drivers with peace of mind while traveling in adverse weather conditions.
Auto Europe Can Help You Reserve a Porsche Cayenne Turbo
Auto Europe has been specializing in helping clients book high end vehicles in destinations around the world for nearly 60 years. We strive to offer a platinum level of customer service throughout the entire booking process and look forward to helping you plan your trip. Our Prestige Service offerings are unlike any other rental program available, as we allow you to select your own vehicle and completely eliminate the hassle of standing in line at the rental counter. Contact us toll-free 24/7 at 1-888-223-5555 to make a reservation, or requests for specific vehicles can also easily be made online.