Get Behind the Wheel of a Porsche Boxster S
Experience a feeling of independence on your upcoming trip to Italy and let Auto Europe help you
navigate the streets of Rome in style
. Revel in the beauty of the many examples of Renaissance and Baroque architecture as you tour the city in a sporty Porsche Boxster S. An overwhelming sense of freedom is luxuriated from the inside out, as the astute interior provides ample space for both driver and passenger comfort. CDR audio systems come standard in all Boxsters, that deliver a remarkable acoustic performance, which helps you appreciate the journey almost as much as actually exploring your destination.
Rome, Meet the Porsche Boxster S!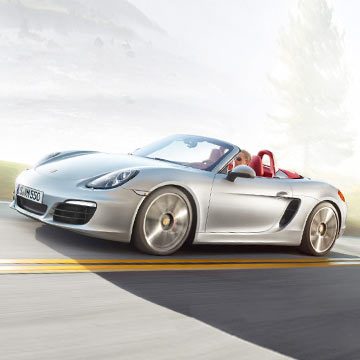 Rome, a city of statues, bridges, columns and fountains; a city boasting an incalculable immensity of archaeological and artistic treasures, as well as being home to a number of unique traditions and panoramic views. The Porsche Boxster S, a vessel of superior substance, a vehicle completely worthy of being driven in a city as impressive as Rome. The Boxster is equipped with a 2.7 litre flat-six engine with direct fuel injection and VarioCam Plus. This two-in-one-engine concept differentiates between driver inputs that range from typical, every day driving to inputs that require maximum performance. The vehicle's engine management system adapt valve operation accordingly that results in instant acceleration and a luxuriously smooth ride.

The perks of renting a car with a mid mountain engine are plentiful. The concentration of mass close to the center of the vehicle and the low center of gravity create precise agility and cornering dynamics. Electronic engine management systems ensure that the engine is performing at an optimum level at all times, resulting in superlative power output and torque with comparatively low fuel consumption and emissions.
Auto Europe Can Help You Rent a Porsche Boxster S!
Auto Europe has been helping clients rent high end vehicles in destinations around the world for nearly 60 years. We are proud to offer automobiles that are internationally renowned for the superior performance and engineering excellence. Our Prestige Service offerings are unlike any rental program available. Spending less time at the rental counter means more time can be dedicated to exploring ancient Rome, Catholic Rome and the Seven Hills of Rome. Contact our Prestige Department toll-free 24/7 at 1-888-223-5555, requests for specific models can also be made online.