Get Behind the Wheel of a Mini Cooper S Convertible!
If you are in the process of trying to arrange transportation for an upcoming vacation or business trip, Auto Europe can help you see the sights of your host city from the driver's seat of a trendy Mini Cooper S Convertible! Newer Minis come standard with a 3-in-1 convertible roof, which allows drivers and passenger the ability to choose how much of an open air experience they would like to take part in; fully open, sunroof open, or fully closed.
Feel Good About Enjoying Your Drive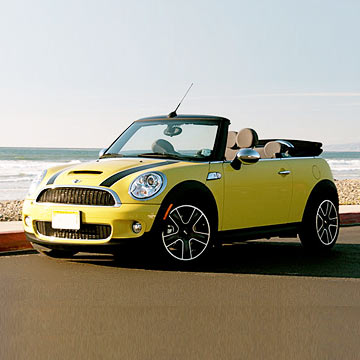 Engineers behind the concept of the Mini Cooper were the first in their field to design a vehicle specifically to maximize interior space and were the first ones to turn the vehicle's engine sideways, making more room inside the cockpit. The Mini is one of the shortest cars in production and also one of the widest. This vehicle is also virtually free of overhangs, as the wheels are pushed all the way out to the corners, eliminating the annoyance of front and back end swinging around sharp corners. The lower, more stable center of gravity helps to maintain optimal balance during all driving situations.
Despite its compact appearance, the Mini Cooper S Convertible gets impressive gas mileage and harnesses an unexpected amount of power. The sport feature adjusts various settings inside your Mini to deliver a rapid acceleration response and precisely controlled steering. Driving in an unfamiliar city can be nerve wracking, especially when the road surface is unstable, but the Mini helps put your mind at ease! All models are equipped with suspension systems that are able to keep your Mini's wheels at their optimal angle to the road and your tires in full contact with the surface at all times. Dynamic Stability Control uses an advanced system of sensors that measure steering angles and apply corrective brake pressure to individuals wheels if the vehicle begins to skid or slide during adverse weather. Another helpful tool is the park distance control feature that uses ultrasonic waves that are emitted from sensors in the rear bumper to measure the distance between your Mini and any objects that may be in its path.
Auto Europe Can Help You Reserve a Mini Cooper S Convertible!
Auto Europe has come to be one of the largest and most respected wholesale companies in the car rental industry. We pride ourselves on offering vehicles that are internationally renowned for their impeccable styling, superior performance and engineering excellence. Our Prestige Services Program allows clients the ability to choose their own vehicle and completely eliminates the hassle of having to wait in line at the rental counter. Contact us toll-free 24/7 at 1-888-223-5555 to make your reservation; requests for specific models can also be made online.