Get Behind the Wheel of a Mercedes-Benz SLK
The Mercedes SLK is an impressive combination of a sleek open roadster and a sporty coupe that can best be described as timeless. Premium leather upholstery is accented by aluminum trim along the console and door frames, along with gleaming Black Ash Wood, or Burl Walnut accents. An iconic staple in the SLK's appearance is the power retractable hard top that folds into the trunk, providing a generous amount of luggage space. This vehicle does an incredibly job of conveying "open roadster euphoria," a feeling drivers will experience in just under 20 seconds. The SLK's standard 17-inch alloy wheels feature tapered spokes with a brilliant silver finish. The vehicle's wheels and high performance tires are wider in the front, providing a better acceleration grip without sacrificing the crisp steering feedback that Mercedes is known for.
Feel Good About Driving Your Luxurious Rental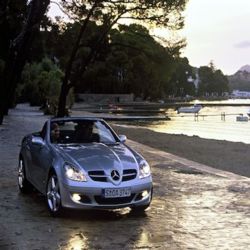 Advanced Direct Injection engines in newer model SLK's deliver higher power and more torque, while outputting cleaner emissions and offering greater efficiency. Speed censored power steering provides quicker corner response and more manageable low speed functionality. Advanced adaptive brake technologies help the vehicle slow down in a safer, more concise manner. The SLK's Hill-Assist feature is extremely helpful when navigating on foreign roadways. This advanced system helps prevent unwanted rollbacks and the HOLD feature makes stop and go traffic much more manageable.

If you are planning an upcoming trip to Paris, turn heads on the city streets when you arrive in gleaming SLK. The Attention Assist Feature continuously monitors an individual's driving behavior and automatically alerts the driver with audible and visual warnings if signs of drowsiness are detected. This function is very useful, especially if your itinerary includes touring other regions of France, such as the alluring city of Versailles, a city that is lined with elaborately ornamented palaces and perfectly maintained gardens.

Auto Europe's Prestige Services
If you are looking to arrange a specific vehicle on your upcoming trip to Paris, Auto Europe can accommodate you. We are proud to offer clients a completely different rental experience and strive to offer a platinum level of service throughout. With our Prestige Service offerings we provide a "Sign & Drive" program that eliminates the hassle of waiting in line at a rental counter. All you have to do is sign a piece of paper and we give you the keys. If signing is not a convenient option for you, arrangements can be made where you do not even have to do that. Contact us toll-free 24/7 at 1-888-223-5555 for more information regarding reserving a Mercedes SLK on your upcoming trip to Paris!