Get Behind the Wheel of a Mercedes GLK with Auto Europe
Choose to get behind the wheel of a rugged Mercedes Benz GLK on your next trip abroad. This award winning compact luxury crossover SUV boasts an interior that is both expertly crafted and incredibly stylish. Intuitive master controls, vivid color displays and advance infotainment technologies provide travelers with an array of entertainment options that help make even the longest drives enjoyable. The muscular, yet elegant styling of the GLK makes it one of the most distinctive luxury vehicles on the road. Brawny, angular and upright, the GLK is aerodynamically designed to maximize performance, cabin space and efficiency.
Cruise down the Autobahn in a luxury vehicle, compare rates at popular luxury car rental pick-up locations like Munich's International Airport and Frankfurt Airport and start your trip.
Feel Good About Enjoying Your Drive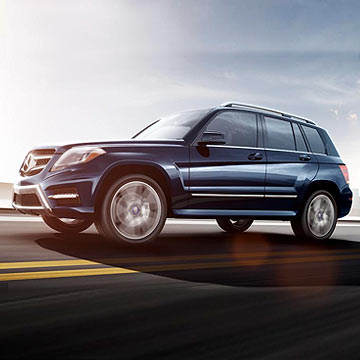 The Mercedes GLK is able to deliver the performance of a sports sedan, while also functioning as a capable SUV. Feel good about enjoying your drive, because the GLK is outfitted with a twin-turbo clean diesel 4-cylinder engine with certified low emissions. Navigating on foreign roadways can be a seemingly daunting task, but drivers and passengers will feel safe and secure when traveling in a GLK. Newer models are equipped with an advanced agility control system that instantly recalibrates the shock absorbers any time the road surface changes, this creates an ideal balance of composure and a firm handling response. Adaptive braking features are another important safety aspect, because sometimes it's all about how quickly you can go from sixty to zero. The braking system includes an array of technologies including brake assist, automatic brake drying and predictive brake priming, all of which are designed for both rapid and precise stops.
Auto Europe Can Help You Book a GLK!
Auto Europe has been specializing in helping clients rent high end vehicles in destinations around the world for nearly 60 years and has become one of the largest and most respected rental car wholesale companies in the world. Our Prestige Services are unlike any other rental program available. Requests for specific vehicles can easily be done online, or you may choose to contact us directly at 1-888-223-5555.