Get Behind the Wheel of a Maserati Quattroporte
Gripping the wheel and feeling the soft Poltrona Frau Leather that lines the interior of a Maserati Quattroporte is a feeling that one might compare to spending time in an exclusive lounge. This vehicle is a combination of flawless design and superior craftsmanship that come together to create a truly elite driving experience. Maserati designers put careful consideration into the styling of the rear passenger area, never sacrificing luxury, refinement or exclusivity. Passengers traveling inside a Quattroporte will enjoy the highest level of comfort, making even the longest journeys pleasant. Copious space allows guests the ability to stretch their legs and revel in the beauty of their surroundings, all while appreciating the Quattroporte's elegant interior, which is the epitome of technological innovation.
Feel Good About Driving a Quattroporte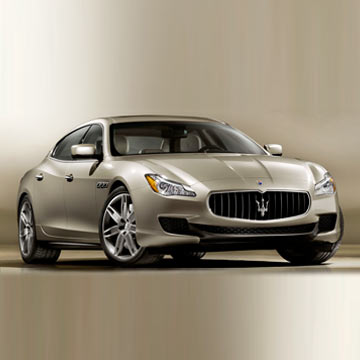 Transmissions in newer model Quattroportes have been completely redesigned to be more efficient than previous generations and introduce two overdrive gears that were developed to reduce fuel consumption while increasing comfort levels during long trips at higher speeds. Increased Control Efficiency mode is a valuable function that is designed to integrate better fuel economy, relaxed driving and low grip conditions. The Maserati Stability Program is a cutting-edge electronic system that reduces torque and activates the brakes in a matter of milliseconds if the vehicle begins to skid. Perfect for navigating on unfamiliar roadways or in adverse driving conditions.

If you are planning an upcoming trip to Nice, choose to explore your destination in style. The enchanting blue-green waters of the Cote d'Azur provides a dazzling backdrop for your excursion; a beauty that is complimented by the elegance of the Quattroporte. Roll the windows down and breathe in the fragrant Mediterranean air. This city offers an array of stunning architecture, age old cathedrals and breathtaking waterfront promenades. Nice's astounding beauty has been inspiring artists for decades and visitors are able to see world renowned works of art by Matisse that span the length of his career. Wherever your itinerary takes you, let Auto Europe help you arrive in style.
Let Auto Europe Help You Rent a Quattroporte
Auto Europe has been helping clients rent high-end vehicles in destinations around the world for nearly 60 years. We are committed to providing a platinum level of customer service and strive to exceed your expectations throughout the entire booking process. The Prestige program we offer is unlike any other rental program available. Our team helps you avoid the hassle of waiting in line at rental counters and allows you to choose your own vehicle. Our Prestige Department is open 24 hours a day and can be reached toll-free at 1-888-223-5555. Reservations can also be made online.