Get Behind the Wheel of a Jaguar XJ with Auto Europe
The Jaguar XJ is a spacious four-door sedan with the heart of a sports coupe. Chic and sophisticated, this car has styling like no other. If you are planning a trip to Edinburgh, there is no better way to discover the region's captivating heritage than from the driver's seat of a Jaguar XJ! This incredible work of craftsmanship is a true representation of luxury and the pinnacle of sport sedan engineering. An impressive panoramic glass roof extends from the top of the windshield to the front of the rear seating area. A reflective glass coating and dark tint help to insulate the vehicle's cabin and passengers may choose to use the power sun blinds for additional privacy. What trip to Scotland would be complete without sampling a dram of Scotland's national drink? The XJ's captivating form and muscular body will certainly turn heads as you arrive at one of Edinburgh's distilleries to take part in an acclaimed Scotch Whisky tour.
Jaguar XJ, Meet Edinburgh!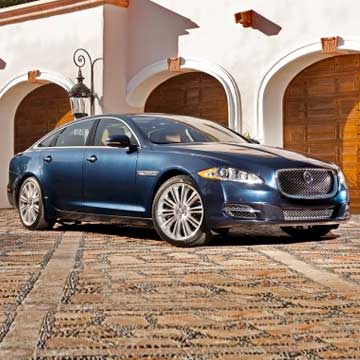 Edinburgh is a harmonious mixture of bustling city living, combined with the allure of the coast and the peacefulness of the Scottish countryside in one remarkable destination. Travelers will enjoy driving their Jaguar XJ's almost as much as exploring their host city. The XJ's 3.0 liter V6 delivers 340 horsepower and an unparalleled amount of torque that provides a virtually instant response. The vehicle's engine, transmission and Dynamic Stability Control system work together to help avoid skidding, as well as being able to maximize power delivery in adverse weather conditions.
Navigate the streets of Edinburgh's Royal Mile in a Jaguar XJ and revel in the beauty of your surroundings. Scattered throughout the city there is an impressive combination of designer shopping outlets, an array of cultural activities and numerous historical attractions that are nestled alongside some of the most magnificent displays of architecture in all of Europe. Parking in an unfamiliar city can be nerve wracking, but drivers will feel safe and secure behind the wheel of an XJ. Ultrasonic sensors that are located in the front and rear bumpers are engineered to detect objects that alert the driver with visual and audible warnings when the vehicle is in danger of hitting an object.
Auto Europe Can Help You Reserve a Jaguar XJ
Auto Europe has been helping clients rent high end vehicles in destinations around the world for nearly 60 years. We are proud to offer vehicles that are renowned for their impeccable styling, superior performance and engineering excellence. Our Prestige Service offerings are unlike any other rental program in the industry. We allow you to spend less time at the rental counter and more time exploring your destination. Contact us toll-free 24/7 at 1-888-223-5555 to reserve your Jaguar XJ, or requests for vehicles can also be made online!