Get Behind the Wheel of a Ferrari 458 Italia Spider!
If you are in the process of planning a vacation, or ironing out the details for a business trip, choose to explore your destination in style and reserve a Ferrari 458 Italia Spider during your next trip abroad! This vehicle is a cohesive mixture of technology, performance and design and is the first car to ever combine a mid-rear engine with a retractable hardtop. The 458 Spider was awarded the prestigious title of engine of the year in 2011, as it delivers exceptional performance.

What Makes the Ferrari 458 Italia Spider Different?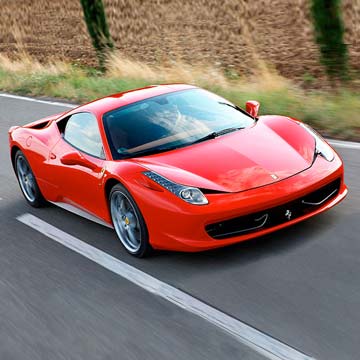 Having the open sky above, as you grip the wheel and hug the corners of the road create a driving experience that is truly one of a kind. The 458 Spider's 570 horsepower engine works in partnership with the double wishbone and L-shaped arms in the front, along with the multilink layout of the rear create better flexibility, which improves the car's ability to absorb bumps.

Ferrari engineers put an incredible amount of thought into the vehicle's superior aerodynamics, another facet of why the 458 Spider stands alone in terms of performance. Designers also focused their energy on aerodynamic efficiency, specifically on reducing drag and increasing down force. A significant amount of attention was also paid to reducing the amount of components in the car, particularly in the case of the door structures. Reduction of unnecessary materials contributes to a lighter vehicle and improved performance and passenger safety. Improved assembly techniques also reduce weight in order to deliver a higher standard of structural rigidity.

For a vehicle that is known for unprecedented performance characteristics, it is surprising to discover that the 458 Spider is also particularly efficient in terms of fuel consumption, allowing you to feel good about enjoying your drive! Engineers conquered the challenge of creating better fuel economy by establishing a new series of modifications, including the introduction of HELE (High Emotion, Low Emissions) System, which is said to incorporate key elements such low-pressure fuel pumps and electronic variable displacement air-conditioning compressors that better fuel consumption by approximately ten percent. Improved stop and start tactics also contribute to an improved fuel economy.

Auto Europe Can Help You Reserve a Ferrari 458 Italia Spider
Auto Europe has been helping clients reserve high end vehicles in destinations around the world for almost 60 years. We are proud to offer automobiles that are internationally renowned for their impeccable styling, superior performance and engineering excellence. Our Prestige Service offerings are a rental program unlike any other available, allowing you to spend less time at the rental counter and more time enjoying your destination. If you are looking to reserve a specific model, such as a Ferrari 458 Spider, we are able to help! Contact us toll-free 24/7 at 1-888-223-5555 for more information!