Rent a BMW 7 Series with Auto Europe
The BMW 7 Series offers a driving experience unlike any other. The superior quality of design creates an enchanting ambiance that impresses individuals with even the highest expectations. If you are in the process of planning a trip, whether you will be traveling for business or for pleasure, Auto Europe can help you get behind the wheel of this impressive automobile. Drivers will appreciate the 7 Series' exceptionally smooth ride, as it takes every corner with ease and makes every lane change seem effortless. The rhythmic way in which this car operates creates a pleasant and unique adventure. Find more information below and compare pricing when renting a BMW 5 Series versus a BMW 7 Series with Auto Europe today!
Why Rent a BMW 7 Series For Your Next Trip?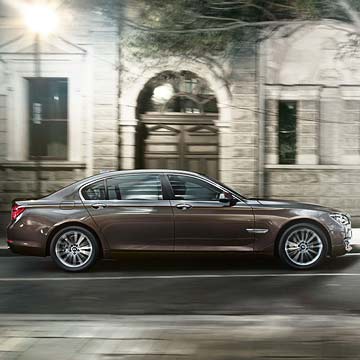 Innovative park assist features help make parking in a foreign city a breeze by recognizing appropriate spaces and automatically taking over steering during difficult maneuvers, allowing drivers the ability to keep their complete attention on traffic. Drivers are alerted of desirable parking opportunities by blue arrows that appear on the vehicle's control display monitor and an intelligent early warning system uses remote infrared sensors that are able to detect pedestrians and other hazardous situations.

BMW engineers have created an impressive feature that gives the 7 Series the capability to use its own kinetic energy to coast along roadways using the least amount of fuel possible. This vehicle is also equipped with ECO PRO mode, a tool that provides fewer emissions and less consumption, bettering fuel economy by as much as 20 percent depending on individual driving styles. A combination of innovative technologies work together to guarantee that drivers and passengers are always privy to an unmatched display of luxury and unrivaled performance. Travelers will also feel comfortable knowing that as driving and road conditions change, agility and comfort will remain the same. Choose to explore your host city in the lap of luxury and arrive in style in a BMW 7 Series!

Auto Europe Can Help You Book a BMW 7 Series
Auto Europe has been helping clients rent high-end, luxury vehicles in destinations around the world for nearly 60 years. We are proud to offer vehicles that are internationally renowned for their impeccable styling, superior performance and engineering excellence and we strive to exceed your expectations throughout the entire booking process. Our Prestige Service offerings are unlike any other rental program available, we give you the opportunity to choose your vehicle and eliminate the hassle of standing in line at the rental counter. Contact us toll-free 24/7 at 1-888-223-5555 to make your reservation; requests for specific models can also be made online with our booking engine at the top of this page!