Get Behind the Wheel of a BMW 5 Series with Auto Europe
Dynamic proportions, sleek design and impressive ingenuity all contribute to the success of the BMW 5 Series. Every detail of this vehicle has been strategically engineered to create a one of a kind driving experience. The cohesiveness and quality of the materials used in the interior contribute to the vehicle's virtually faultless design. Passengers are also able to enjoy an ample amount of legroom, whether they are seated in the front or in the back of the cabin. The trendy and modern composition of the vehicle's exterior also clearly evokes feelings of comfort and security. Choose to rent this elegant automobile on your upcoming trip abroad. Whether you are traveling for business or for pleasure, Auto Europe can accommodate you.
What Makes the BMW 5 Series Unique?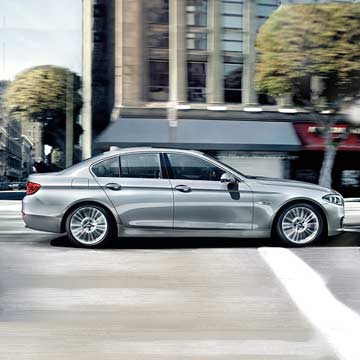 Engineers kept efficiency in mind as an important feature in the redesigns of all BMW models. The 5 Series harnesses the coasting energy that is generated each time you brake or take your foot of the accelerator and turns that into electricity that is used to charge the vehicle's battery. Intelligent energy management systems provide the 5 Series with the ability to operate without the alternator during some situations, which reduces the strain on the generator. The end result is better fuel economy and increased performance.
Passengers and drivers are provided with an unrivaled sense of comfort while traveling in a BMW 5 Series. Newer models are equipped with snap-in adapters for charging portable devices. The car's docking system can charge Apple, Nokia, Motorola, Samsung, Sony and Blackberry products. Dynamic Damper Control systems ensure that your vehicle will absorb potholes and bumps gracefully and the transition from paved roads to adverse terrain is done seamlessly. Damper settings can be adjusted to deliver extra comfort, while providing the least amount of disruption possible on uneven surfaces.
Auto Europe Can Help You Book a BMW 5 Series
Auto Europe has been specializing in helping clients rent high end vehicles in foreign cities for nearly 60 years and has come to be one of the largest and most respected car rental wholesale companies in the world. Our Prestige Services are an offering unlike any other rental program available. We allow you to choose your own vehicle and eliminate the hassle of having to stand in line at a rental counter. Simply contact us toll-free 24/7 at 1-888-223-5555. Requests for specific luxury models, such as the BMW 5 Series, can also be made online.