Drive a Bentley Continental GTC
The Bentley Continental GTC provides an alluring mixture of power, design and exclusivity.
Turn heads in London while driving
a vehicle that has become synonymous with dignity and refinement. London is the cultural, political and economic capital of Britain and is home to an array of historic landmarks and four World Heritage Sites. This is a destination that deserves to be explored in the lap of luxury, so put the top down and feel the breeze tousling your hair as you zip through the streets of the city, feeling a rush of effervescent energy pulse through your veins.
Feel Like Royalty from Behind the Wheel of a Bentley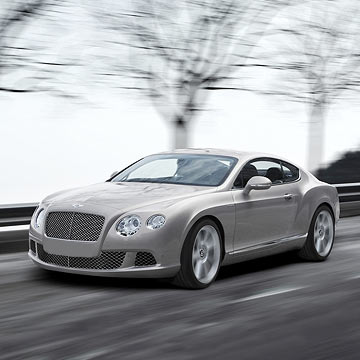 The air in London can feel quite crisp in the evening, but not to worry. If you become chilly while commuting between landmarks, keep the top down and simply turn on your neck warmer. This vent is discretely located below the headrest and gives off a steady stream of warm air that will take the nip out of your drive. The vehicle's altitude and balance is continuously being monitored by a state of the art suspension system. The suspension settings are adjusted hundreds of times every second in order to provide a limber ride at slower speeds, with better control as your speed increases. Newer Continentals are outfitted with the latest engine management system and the car's redesigned turbo charger settings have contributed to an overall improvement in fuel economy.

Experience first hand how the Bentley Continental GTC seamlessly captures the essence of craftsmanship, design and engineering, while continuing to offer a sporty level of performance that can easily accommodate four people. London is a destination that that creates a dynamic mix of possibility and the GTC is an automobile that offers incredible power and precise handling while still maintaining a civilized appearance in city traffic.
Auto Europe Can Help You Rent a Bentley Continental GTC
Auto Europe has been helping clients rent high end vehicles in premier vacation destinations for almost 60 years. We are proud to offer vehicles that are known for the impeccable styling, superior performance and engineering excellence. Our Prestige Service offerings are a rental program unlike anything else that is being offered within the industry, by eliminating time spent at the rental counter and allowing you to choose your own vehicle. Contact us toll-free 24/7 for more information regarding booking a Bentley Continental GTC on your upcoming trip.