Rent an Audi Q7 with Auto Europe
The Audi Q7 is a luxury crossover that comfortably seats six passengers and boasts an elegant, coupe-like silhouette that is incredibly chic and typically uncharacteristic of other crossover SUVs. With trendy styling and expertly designed features, this vehicle is equipped to handle virtually any driving situation, making navigating in regions with varying terrains and adverse weather conditions a breeze. Choose to rent an Audi Q7 on your upcoming vacation or business trip and explore your destination in style!
What Makes the Audi Q7 Unique?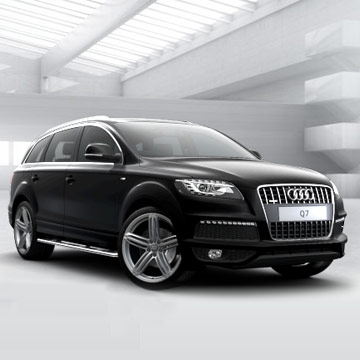 An array of innovative technologies inside the Audi Q7 work together to create a unique infotainment experience. Engineers at Audi were the first in the industry to implement factory-installed wireless in-vehicle internet, giving passengers the ability to access real time weather, news and traffic reports. Lists of current fuel prices in your host city are also conveniently displayed, which is a very helpful feature when traveling in a new city.

The Audi Q7 is a unique embodiment of sportiness and refinement, as all new models are outfitted with supercharged, direct-injection 3.0 liter V6 engines. The vehicle's adjustable chassis is able to transform from high performance driving to more relaxed conditions seamlessly and drivers will appreciate the harmonious relationship between the steering wheel, accelerator and brake pedal, which make the weight of passengers and luggage virtually invisible.

Driving on international roadways can be stressful enough, navigate your way through bustling city streets with ease! The Q7 is able to effectively monitor your blind spots and easily transition from city driving to off-road mode on its own. Improved control of the Q7 will make your drive feel as if the road is bending for you during unfavorable weather conditions, or during performance based driving situations. Re-designed anti-lock brake systems, electronic brake pressure distribute and brake assist features also contribute to improved safety.
Auto Europe Can Help You Get Behind the Wheel of an Audi Q7
Auto Europe specializes in helping clients rent reliable vehicles in premier vacation destinations and has come to be one of the largest car rental wholesale companies in the world. We take pride in offering vehicles that are renowned for their impeccable styling, superior performance and engineering excellence and strive to exceed your expectations throughout the entire booking process. Our Prestige Service Program is unlike any other rental offering available. We give you the ability to choose your own vehicle and completely eliminate the hassle of having to wait in line at the rental counter. If you are interested in renting a specific luxury vehicle, we are able to accommodate you! Contact us toll-free 24/7 at 1-888-223-5555!