Get Behind the Wheel of an Audi A8 with Auto Europe
A fascinating combination of notable refinement and cutting edge technology, the Audi A8 is the perfect vehicle to pilot on your upcoming trip abroad. Newly redesigned A8s are an ideal mixture of impeccable styling, high end performance and state of the art technological amenities; making this full-size luxury sedan a favorite among critics. The vehicle's interior is outfitted with premium leather, wood and aluminum, all contributing to the A8's subtle, yet alluring appearance. Drivers and passengers will also appreciate the dual-zone climate control and exceptional Bose audio system, features that come together to create a truly enjoyable driving experience.
What Makes the Audi A8 Unique?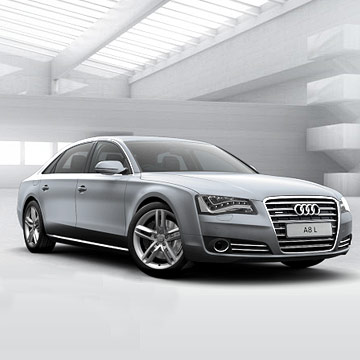 The advantages of choosing to rent a full-size luxury vehicle while traveling are numerous. In addition to the Audi A8's spacious cabin and exclusive technological features, travelers are bound to be impressed by the sedan's smooth ride and superior handling. A newly re-designed suspension system allows the vehicle to absorb bumps without excess backlash and proves to be surprisingly agile while cornering. Simple touch navigation makes driving in a foreign city less nerve wracking and ideally weighted steering is able to ease up in an instant in order to accommodate slower parking maneuvers.
Drivers will feel safe traveling on unfamiliar roadways in a vehicle that is equipped with Audi quattro all-wheel drive. This feature evenly distributes power to the wheels that need it the most during unfavorable weather conditions and performance based driving situations. The A8's dynamic steering system is able to intervene with automatic counter-steering if your vehicle begins to slide or skid. Adaptive cruise control settings with stop and go capability, emergency braking systems and night vision with thermal imaging and pedestrian detection also give you peace of mind while driving internationally. The vehicle's MMI system is also able to assist the driver by making anticipatory decisions regarding the road ahead.
Auto Europe Can Help You Reserve an Audi A8!
Auto Europe has been helping clients rent luxury vehicles in destinations around the world for nearly 60 years and has come to be one of the largest and most respected wholesale companies in the rental car industry. Our Prestige Services are an offering unlike any other program available and is geared towards making planning your trip as hassle free as possible by allowing you to choose your own vehicle and completely eliminating the hassle of standing in line at the rental counter. Contact us directly at 1-888-223-5555. Requests for specific makes and models can also be done online.